Friends of Lone Cemetery President Retires:
Friends of Lone Pine Cemetery President, Fred Smith has decided it is time for him to step down from the position he has held since the organization was formed in 2007. He has been a very active, hands-on leader in forming the organization as well as helping with the physical work at the cemetery and planning for future projects to make the historic pioneer cemetery accessible and presentable again after many years of neglect.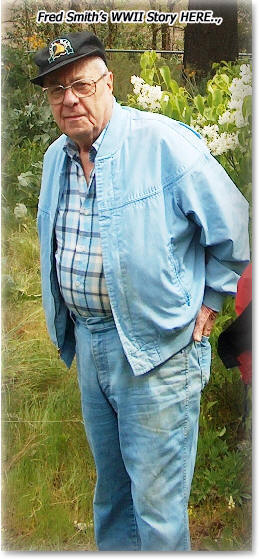 Fred cited his age, he turned ninety in March this year, and some health concerns that may keep him from being as active as he would like to be. He announced his decision at the Spring meeting at the C&D Bar & Grill in Tekoa WA, on May 11, 2012 and nominated Terry Smiley for his replacement who graciously accepted and was enthusiastically accepted by the group who voted affirmative for his filling the position of President. His wife, Patti agreed to be a co-president, and Jo Ann Savitz will remain as Vice President and Jim Irwin will remain as Secretary-Treasurer.
Fred was raised in the Northwest and the Whitman County area before joining the U.S. Army at the age of nineteen and becoming a highly decorated Fighter Pilot during WWII, in the European and African theatres, flying 173 missions. After the war he went into the business world as an auto parts salesman and became an executive in a nationwide corporation that made and distributed auto parts. At one point before his retirement he was a Territory Manager for the entire West Coast including Alaska & Hawaii.
Fred and Terry are both descendants of the Smiley family of pioneers buried at the Lone Pine Cemetery. Other descendants and members present at the meeting were Fredís son-in-law, Tom Pohle, Fredís Nephew, Rod Smith, Terryís Wife, Patti Smiley, and Jim & Shirley Irwin.
For more information about the Lone Pine Cemetery e-mail Jim Irwin @ jimirwin@charter.net.
---
May 11th & 12th meeting and work day of the Friends of Lone Pine Cemetery - 2012
Click on the marker below for a gallery of the installation.